Atlantik iCon LED Lighting for coral growth & color
is the new generation of the Atlantik series offering you access to the future.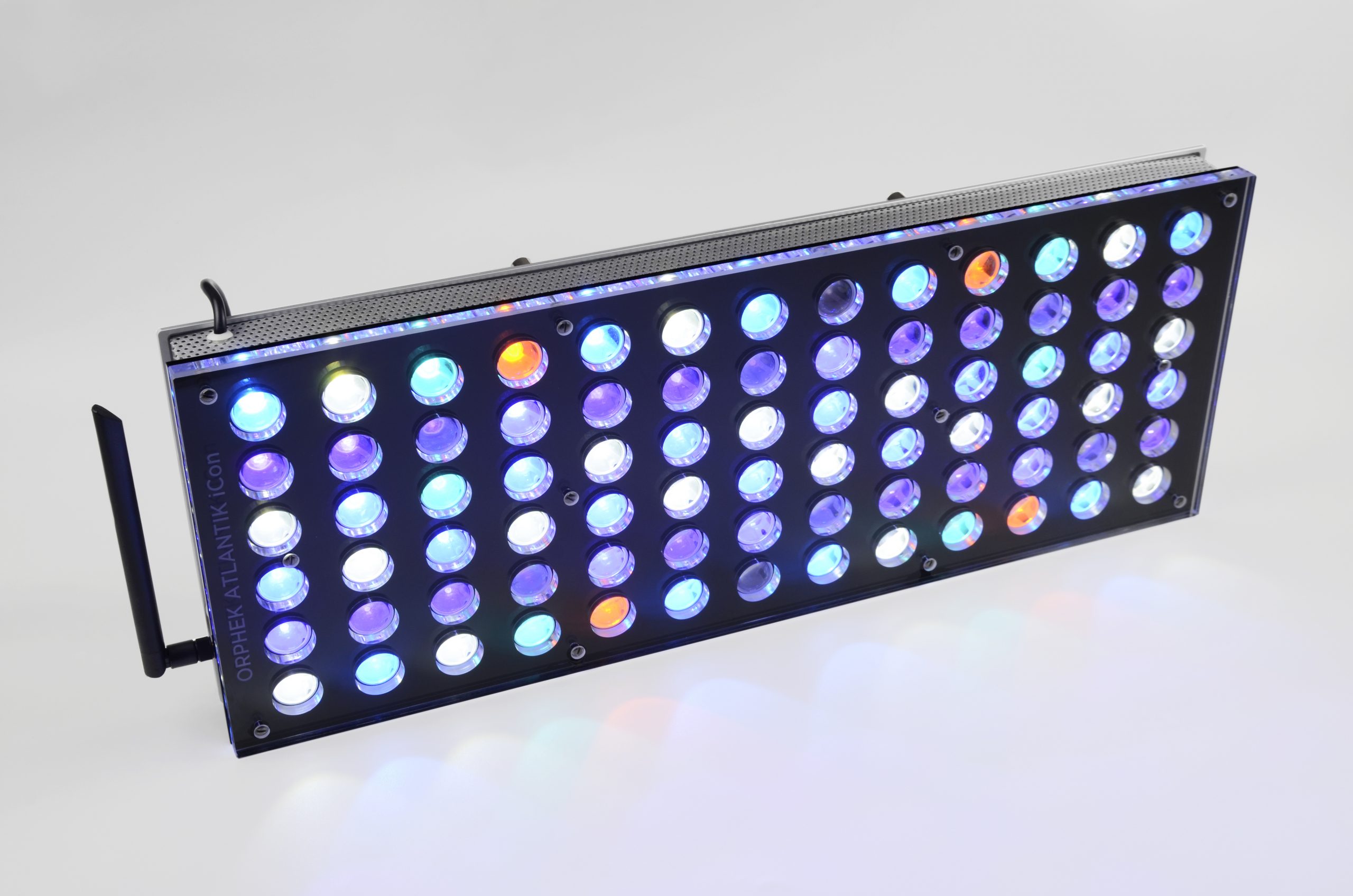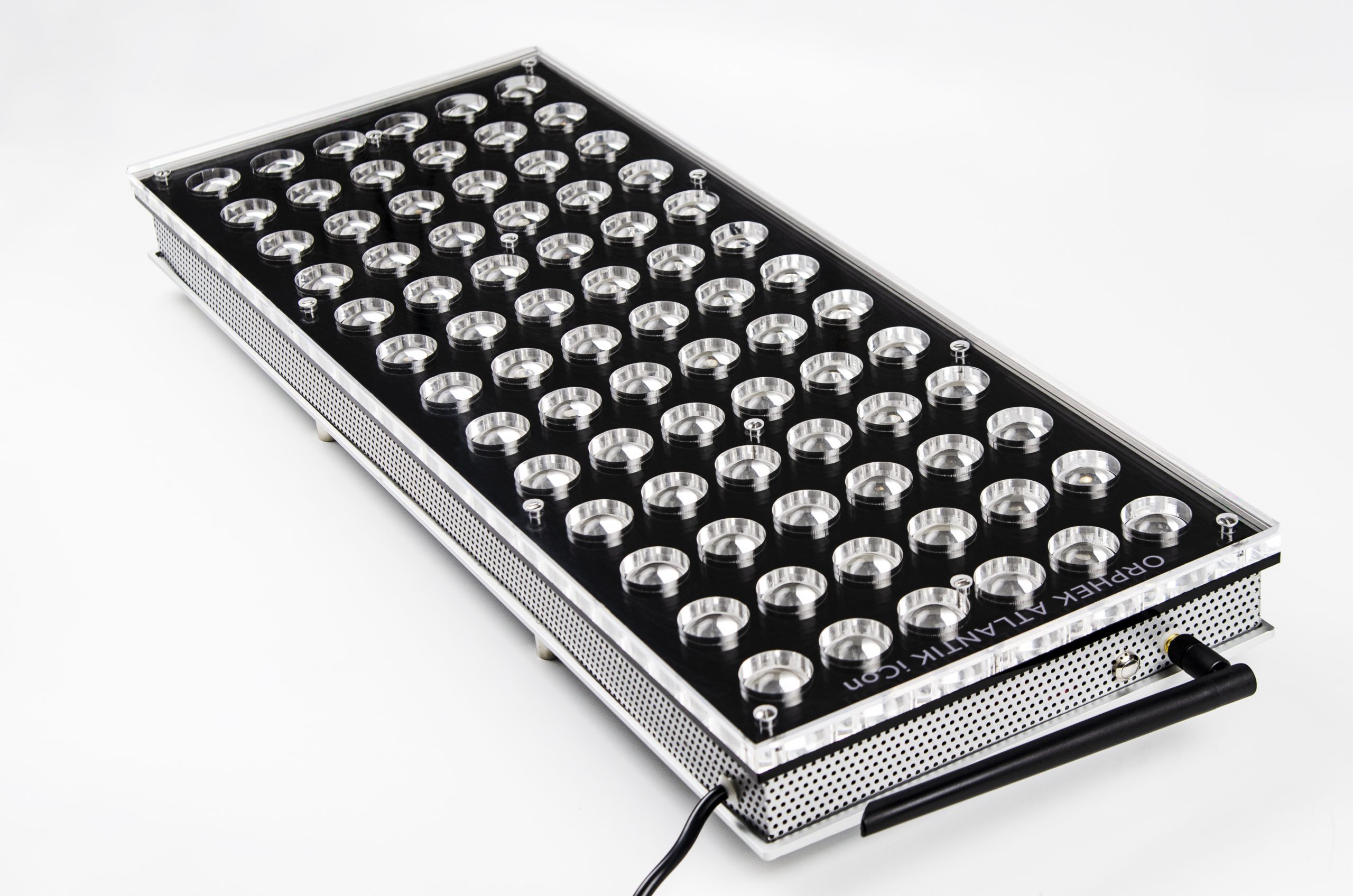 Orphek takes a leap into the future and presents the new Atlantik iCon – Intelligent Connectivity.
Orphek has been over the years progressively introducing new benefits and fine tuning to your Atlantik and Atlantik Compact fixtures.
This year we are launching a new Atlantik LED Light with a number of significant improvements and valuable changes!
You will get access to our new app; improved air flow and cooling system; faster connectivity like never seen before; an amazing 1000% dimming control of your light never offered in the market before; the best spectrum ever developed by us, better color control, new modes… and much, much more!
What is the price :
USD$1100 (original price) now available at USD$935
Does the price include shipping?
Yes – Free shipping worldwide express door to door
Do you accept PayPal or Credit Card?
Yes – we will send you a PayPal invoice and you can pay with your PayPal account or credit card.
How can I Order?
Click : Buy Orphek Aquarium LED lighting
SO, WHAT'S NEW?
New free Orphek iCon App for both IOS and Android


NEW TECHNOLOGY COMES WITH AN AWESOME NEW ORPHEK APP.
Developed with a friendly technology both easy and fun to use, the new Orphek App. is compatible with both IOS and Android, with iCloud support, voice control and many other cool features!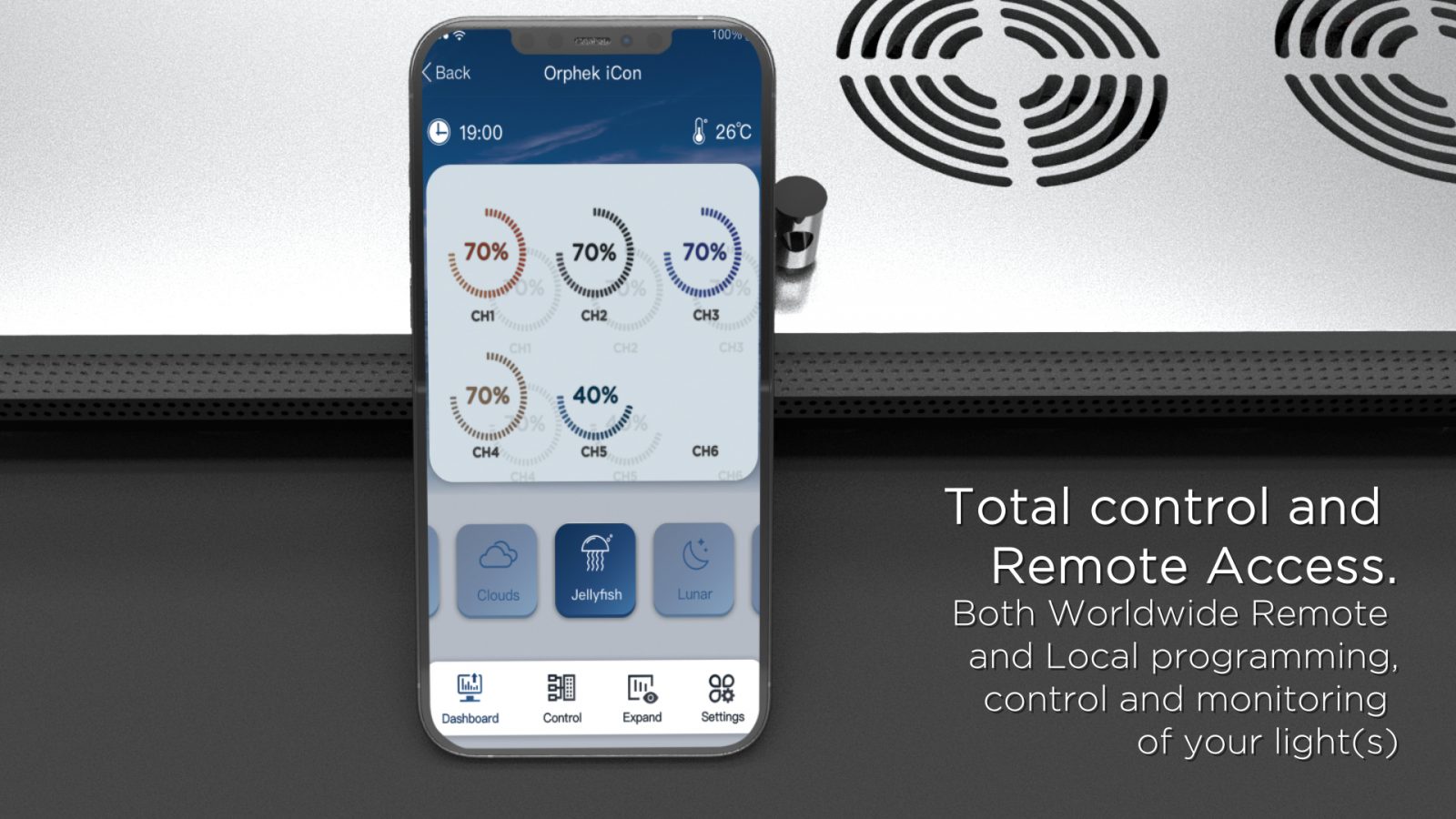 Wi-Fi Supported by Bluetooth
CONNECTIVITY FASTER THAN EVER BEFORE
Now you can now connect, monitor and program your light(s) in an effortless and faster way via Wi-Fi system having Bluetooth support, without the need of a gateway, from any place in the world!
Compatible with Wi-Fi/5G internet connectivity
With high speed response of the light to the commands given by the App.
Extra data security – your information extremely secured!
Not only that! Orphek has also added an extra way of communication! Orphek Atlantik iCon Hotspot Sharing option:
This will be useful in places where there is no internet router, so your Orphek light will get the Internet from your cell phone when placed close to each other!
Advanced

1000% dimming control system
THE FINE TUNING YOU HAVE NEVER EXPECTED!
Orphek offers in Atlantik iCon full progressive dimming capacity in all channels. We are the first and only company in the world offering 1000% dimming control system (0-100% and 0.1-1% for Moon Cycle)!
READ ALL ABOUT IT BY CLICKING ON THE LINK BELLOW:
THE SECRET OF ATLANTIK ICON NEW LUNAR PROGRAM AND THE MOST ADVANCED 1000% DIMMING CONTROL
READ ALSO ALL ABOUT HELIUS – ORPHEK'S NEWEST DEVELOPED AND PRE-INSTALLED PROGRAM FOR OPTIMAL CORAL HEALTH, COLOR & GROWTH. CLICK ON THE LINK BELOW:
THE SECRET OF CORAL HEALTH, GROWTH & COLOR OF THE ATLANTIK ICON HELIUS PROGRAM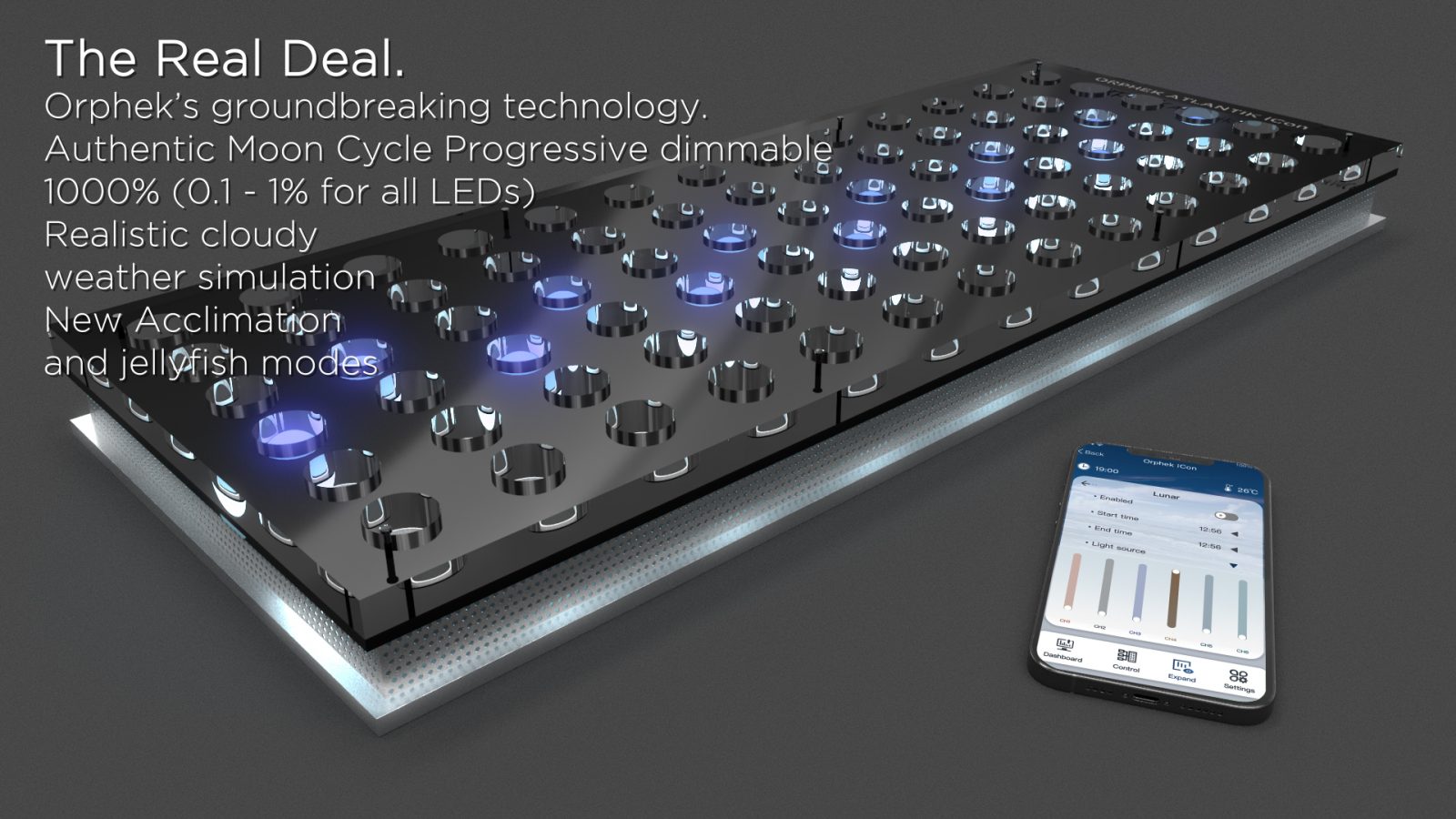 LEDs
EVEN BETTER THAN BEFORE
Atlantik iCon LEDs spectrum is developed for optimal coral growth, color pop & health.
You are getting newer customized high efficiency 5w Dual-Chip power LEDs that are even more technologically advanced therefore, more efficient! Our new LEDs will last longer than all the previous Orphek LEDs!!
78 customized high quality, high efficiency 5w Dual-Chip power LEDs – total of 156 individual LEDs Chip.
10 optimized different types of Dual chip 5W wide range LEDs for maximum photochemical efficiency
ORPHEK ATLANTIK iCON COMES WITH 2 MORE CHANNELS
Each channel comes with 13 Dual-Chip 5W power LEDs
LENS
Orphek is the only company proving glass lens for its UV/violet LEDs.
Not only that, we have also improved internal lens to make sure you are getting the best Orphek LEDs!
Atlantik iCon
PAR
LEDs
Atlantik iCon is truly one of a kind and stands out from the rest with a Highest PAR value, it is certainly in a league of its own.
The peak value is incredibly high, as it is close to 1000 PAR !!!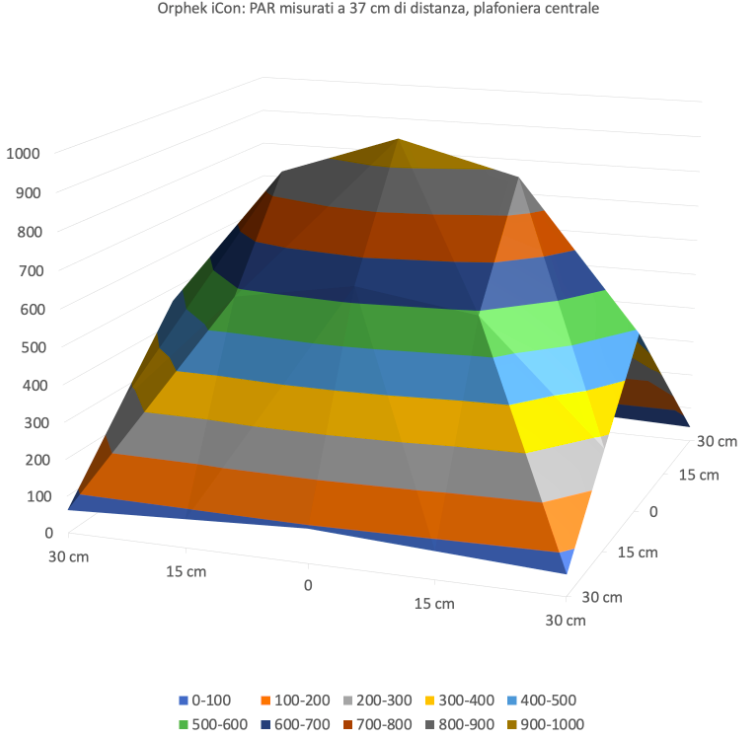 Atlantik iCon
LEDs
Spectrum
Being a company in continuous development, Orphek has taken its decade of research and testing to achieve an evolutionary spectrum that is based on the Atlantik V4 spectrum, but intelligently improved, offering now the new Atlantik iCon, with not only a new spectrum, but we have also reorganized the entire LED array, so you can control each color bandwidth separately, allowing you to have more control of the color appearance.